USB connectors and ports have become progressively more functional, opening the way for smaller, lighter and more portable devices. New standards bring more speed, power and versatility to market and they also bring a complex assortment of features and capabilities to think when deciding which cable or peripheral is right for your application.

Types of USB Ports & Connectors
There are many of different USB cables, each of which has different advantages and is suited to a different task. On pcs, tablets and peripherals you will typically find at least one of these three different types of USB ports.
The cables and ports used by your smartphone and tablet will be either micro-USB or USB-C on one end, with a USB-A type on the other end. You can find out more about which type of USB your device uses.
Some of the cables that come with older models will not have the USB-A on the end, but rather just the plug. These plugs will usually have a much lower amperage. Read below and see pictures to find out more about the different types of USB cables:
USB-A
It is most commonly used with computers or power outlets. When charging, you will connect the USB-A side into the USB-plug or into a laptop or computer. USB-A cables will only go into the port one way.
You can usually tell which way up they should be by the USB symbol printed on the top. Make sure that the cable is inserted the correct way so as not to damage the cable or device.
USB-B
It is mostly used to connect printers or external hard drives with computers. They are not as common as the other types of USB cables.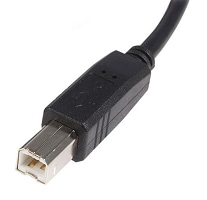 USB-Mini
It is mostly used for connecting mobile devices including MP3 players and cameras, and is a much smaller connection, thus allowing smaller devices to connect.
Micro-USB
This type of connection allows data to be read without needing a computer. For example, you can connect Flash Drives, or Memory Sticks, directly to your mobile device. Like USB-A cables, Micro-USB will only go into a port if it's the correct way round. Be careful to match the shape of the port with the Micro-USB cable to avoid causing any damage.
USB-C
It is the most recent USB development and all new Samsung devices come with USB-C ports. USB-C cables allow high speed data transfers and a higher power flow, allowing your phone to charge more quickly. USB-C cables are also reversible and can be plugged in either way round.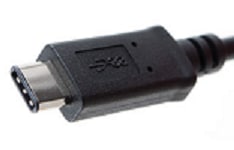 Lightning
It is similar in function to USB‐C but uses a different connector. This connector is used to connect Apple mobile devices, to host computers, external monitors, cameras, USB battery chargers, and other peripherals.
USB 3
It was designed to be able to be backwards compatible with earlier versions of USB cables and ports. The USB 3 has different shaped connector pins so it can withstand more frequent use. The USB 3-A and USB 3-B cables are identical to the USB-A and USB-B cables at the top of this article, except they are coloured blue inside to distinguish them. The USB 3 micro cable has extra pins to enable the transference of more data.
Where to buy USB related products?
The PC Shop is an online computer shop where you will find products of the highest quality, since we work with the best brands.
We don't want to sell you something you don't need. Our goal is to help you choose the right product for your needs and budget, so if this is not the right gadget for you, we can help you find the perfect solution and even set it up and deliver it to you ready for use! Call us at 7000 8111 or Contact The Fidelity Team.